Sports Eric Battista / Oil On Wood Signed / Rugby / Beautiful Table Brassens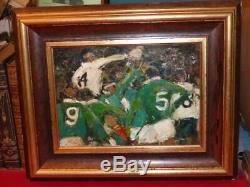 [Twentieth arts - sports - rugby]. Eric Battista (born May 14, 1933 in Sète) is an athlete.
Licensee university paris club, he won eleven titles of France champion in the triple jump between 1955 and 1966, and increases ten times the France record of discipline, bringing it to 16.09 m in 1964. He participated in three games Olympic consecutive between 1956 and 1964. His best result was a 16th place finish at the Olympic games of Melbourne in 1956. He won the gold medal of the 1955 Mediterranean games and 1959 and ranks fifth in europe Championships 1958.
Eric Battista was born in Sète as Georges Brassens and, from there, developed a long friendship that has never wavered until the singer's death. On this occasion, it was the only one with pupchen to assist him in his last moments and it was his initiative that brassens has finished his days in saint-gély du fesc near Montpellier.
Brassens, who gave nicknames to everybody, had of course known as \Upon meeting, they remained very close, whether sete, paris street in brassens Santos-Dumont, in Crespières where brassens had acquired a house in Brittany where Battista also often followed brassens on holiday in lézardrieux and finally saint- gély du fesc where the poet died. With many notes accumulated in the past moments with him, Battista relates his memories of anecdotes about brassens everyday. He wrote two books of memories of that friendship. An original book that presents brassens under sides that little is known.
Eric Battista, Georges Brassens: interviews and intimate memories, Equinox Publishing, 2001. His friend Georges Brassens that encourages Eric Battista to devote himself to painting and illustration of his poetic works. He offered her his first paintings. The Eric Battista works are presented in galleries in France and abroad.
And are included in catalog several museums. Countersigned on the back of the workshop buffer (proof of authenticity). Other numbers and various inscriptions, but no date clearly indicated .. friendly coaching realized quite modern, stained wood wand and golden.
Various wear on corners and edges of the frame, splinters, friction, normal, minor losses. Table format (wood panel): about 33 x 24 cm. Frame size: 50 x 41 cm. Original and unique old work! This is not a reproduction ..
but an original work signed by the artist. If possible to pick up on my warehouse.
Delivered by hand to avoid damage .. Otherwise expeditions solutions (including abroad). To study between buyer and seller. The item \The seller is \This article can be shipped worldwide.