Sasza Blonder André Blondel (1909-1949) Hsp Nu 35x25cm Years 40 Ecole De Paris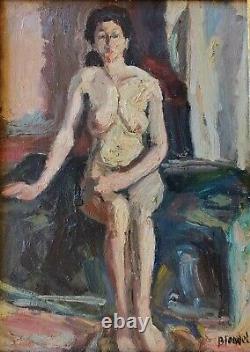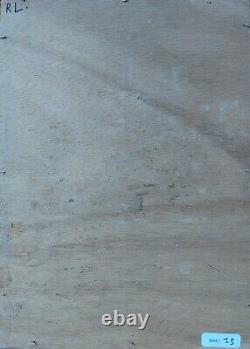 Very nice oil on isorel. Signed at the bottom right.
Naked sitting on a bed. Beautiful fauvist oil on board.
Born on 3 May 1909 in tChortkov/czortkow (Polish, Ternopol region, Eastern Galicia, now Western Ukrainian) in a family of Jewish traders. 1930-32: Higher national school of betting fine arts (architecture section). Academy of Plastic Arts of Krakow, course of teachers t. In Krakow he founded with friends the artistic group "the living" and then joined the artists h. Levicki in a pre-guard group "the group of Krakow", whose first exhibition will take place in lvov (lviv) in 1933.
Joined the union of Polish artists and writers "zzpap" from which he was excluded in 1937 for political activism. In 1935 worked in the Jewish theatre for children of bielska-biala (direction and scenery). 1936 : installation in varsovie 1937 : personal exhibition at the koterby salon in varsovie. 1937-39: installation in his workshop, 5 of the false city, paris xv.
He took the courses of the school of the louvre took part in the international exhibition of 1937, frequented the painters of the school of betting: chaim soutine, pinchus krémègne, isaac dobrinski, ludwig klimek... 1939: he was incorporated into the Polish army of france.
1943: marriage with pious bonfils, young associate professor of physics and chemistry, in office in Carcassonne. He has an intense creative activity, close to artists and intellectuals (three portraits of joe bousquet date back to this time).
The young Carcassian painters savy and camberoque, as well as the Montpellieran peyré come to listen to his advice. He made several trips to perpignan and collior where he found andré libion, balbino giner and other Catalan painters. During one of his passages he will cross raoul dufy who will buy him three paintings. A sete, where he regularly goes, he frequents, around desnoyer, other future members of the group « montpellier sète »: elbow, descossy, barthelemy, espinasse, raissac...
Sometimes, two or three they climb on the hill light st to paint the same pattern. Born his children, helene (1944) and marc (1945).
He is a member of the Salon des Indépendants, a member of the Salon d'Autumn and exhibits, alone or in groups, perpignan, beziers, sète, montpellier, carcassonne. The gallery vernière-decabezon, of Montpellier buys him several works. Summer 1948: installation with his family with seals and then with bets.
Accidental death on 14 June 1949 in bets. He left behind more than 700 oils and so many drawings.
Urodzony 3 maja 1909 roku w czortkowie (region tarnopola w galicji wschodniej, dzi zachodnia ukraina) w rodzinie ydowskiej zajmujacej si handlem. 1926: pierwszy pobyt w paryu. 1930-32: pastwowa wisza szkoa sztuk piknych w paryu (sekcja architektury).
Akademia sztuk piknych w krakowie, Kursy profesorów t. W krakowie wraz z przyjaciómi tworzy grup artystyczn zywi, a nastpnie docza do artystów h. Lewickiego z awangardowego ugrupowania grupa krakowska, której pierwsza wistawa miaa miejsce we lwowie w 1933 roku. Jest czonkiem zwizku zawodowego polskich artystów plasticków (zzpap), z którego zostaje wikluczony w 1937 roku za dziaalno politicyczn.
W 1935 roku pracuje w ydowskim teatrze dla dzieci w bielsku-biaej (reyseria i scenografia). 1937: wistawa indywidualna w warszawskim salonie koterby. 1937-39: urzdza si w swym atelier, 5 falguière cité, pary xv. Uczszcza na Kursy szkoy luwru, bierze udzia w midzynarodowej wistlawie z 1937 roku, bywa w rodowisku malarzy szkoy paryskiej : chaim soutine, pinchus krémègne, isaac dobrinski, ludwig klimek... 1939 : jest wieliony do armii polskiej we francji. June 1940: zdemobilizowany w tuluzie. 1940-42: przy pomocy panów hallwachsa i marquesa, wibitnych czonków ruchu oporu, znajduje schronienie niedaleko aix-en-provence, a nastpnie w cuxac-cabardes na pónoc od carcassonne. 1943: lub z luiz bonfils, mod nauczycielk, laureatk pastwowego konkursu z fizyki i chemii, pracujac w carcassonne.
Uprawia tu intensywn dziaalno twórcz, bierze udzia w yciu artystycznym i intelectualnym (z tego okresu pochodz trzy portrety joëgo bousquet). Modzi malarze z carcassonne, savy i camberoque jak i peyré z montpellier chtnie Suchaj jego porad. Czsto przebywa w perpignan i collioure, gdzie spotyka si z andré libionem, balbino ginerem i innymi malarzami katalokimi.
W czasie jednego z tych pobytów droga jego krzyuje si z raoulem dufy, który kupuje od niego trzy obrazy. W sète, gdzie bywa regularnie, poznaje, zwizanych z denoyer, przyszych czonków ugrupowania montpellier-sète: elbowrc, descossy, barthelemy, espinasse, raissac...
Czasem we dwóch lub trzech wspinaj si na wzgórze st clair, aby malowa ten sam motyw. Rodz si dzieci, helene (1944) i marc (1945). Jest czonkiem salonu niezalenych, salonu jesiennego i wistsawia sam lub z innymi artystami w tuluzie, perpignan, bezier, sète, montpellier, carcassonne. Galeria vernière-decabezon w montpellier kupuje kilka jego dzie. Lato 1948: zamieszkuje wraz z rodzin w seals pod paryem, a nastpnie w paryu. Ginie w wypadku 14 czerwca 1949 roku w paryu. Pozostavia po sobie ponad 700 obrazów olejnych i tyle rysunków.
Polish expressionist painter from the school of paris born on May, 3rd 1909 in tchortkov/czortkow (poland, in the ternopol area, now in western Ukrainian) into a family of Jewish shopkeepers. 1926: first stay in paris. 1930-32: student at the fine arts (high school of arts) in paris, in the architecture section. Student at the academy of fine arts in krakow, with teachers t.
In krakow, he founded the art group "live people" with some friends. Levicki in an avant-garde group of artists called "the krakow group". Their first exhibition took place in lvov in 1933.
He joined the union of polish artists and writers ("zzpap") before being excelled in 1937 on the grounds of political activism. In 1935 he worked in bielsk's Jewish theater for children where he did stage work and props.
1937: personal exhibition at warsaw's koterby gallery. 1937-39: settled into his workshop at no. 5 falguary city, in paris. Look part in the international exhibition in 1937.
Met paints from the school of paris such as chaim soutine, pinchus kremegne, isaac dobrinski and ludwig klimek. 1939: he was drafted into the polish army in france. July 1940: dismissed in toulouse. 1940-42: found refuge near aix-en-provence and then carcassonne in the homes of hallwachs and banks, who were themselfs with the resistance.
1943: married louise bonfils, a young physics and chemistry professor who was teaching in carcassonne. 1943-48: he set up home in carcassone in the south of france and went through an intense period of creativity, when he met a lot of artists and intellectuals. He made three portraits of joë bousquet during this time. Savy and camberroque, young painters from caracassonne, and montpellier-based peyré, cam to him for advice.
He made several trips to perpignan and collior where he met andré libion, balbino giner and other Catalan paints. In sète, where he wasnt to regular, he met other future members of the montpellier set school around desnoyer, including elbowrc, descossy, barthelemy, espinasse and rissac. In groups of two or three, they used to walk up st clair hill to paint the same landscape. He had two children: helene (born in 1944) and marc (born in 1945).
He was a member of the society of independent artists and a resident painter at the autumn salon. Exhibited alone or with a group of paintrs in toulouse, perpignan, beziers, sète, montpellier and carcassonne. Summer 1948: moved to seals and then bets with his family. He died accidently on June 14th 1949 in paris. He left more than 700 oil paintings behind and as many drawings.
The betting school is a concept that refers to all foreign artists who arrived before the 1920s. Introductory clarifications The generic term "school of betting" poses a problem when it is used to refer to a particular group of artists. In fact, it does not refer to any school that has actually existed; the expression, which has been used improperly, remains ambiguous and deserves to be explained.
In his dictionary of betting school painters (1993), lydia harambourg justifies the use of expression by the continuity which allows to establish between the different phases of development of modern art on the part of artists who had been betting for residence. His book does not present a particular school or current, but twenty years of betting painting: "The term betting school will be kept, because no other can better designate, in these post-war years, the supremacy of the capital in terms of art. In this sense, the school of betting brings together artists who helped to make bets the home of artistic creation until the 1960s. There are usually three major periods of change in the Parisian artistic landscape in the 20th century, each being the manifestation of a revival of the previous one. The first period ranged from 1900 to the 1920s, the second covered the interwar period and the last referred to the post-World War II.
It thus designates all foreign artists who arrived at the beginning of the 20th century in the capital in search of conditions favourable to their art. From 1900 to the First World War, bets saw in fact the influx of artists, often from central Europe, who set themselves essentially in Montparnasse. Among them marc chagall, pablo picasso, pascin, amadeo modigliani and tsuguharu foujita for ne.
Say that the most famous. The term "school of betting" thus acquired, at that time, a clean and commonly accepted meaning.
Many are Jewish painters of the school of betting. These artists come from the east: Russia, Poland, Germany, Bulgaria, Czechoslovakia, Romania, Hungary. They have been familiar with the great French masters of the 19th century and know the impressionists through their teachers as józef pankiewicz in Krakow, ilia repine in Saint petersburg, adolf fenyes, isaac perlmutter in budapest and lovis corinth in berlin.
They were mostly twenty years old, and they were actors in Jewish emancipation, participating in the social and intellectual awakening movement in Europe, which is characterized by the loss of the religious and political commitment, and are found in coincidence with the cosmopolitan context of the great capitals of the time, come, berlin and above all bets. Jewish artists from the betting school. Léopold gottlieb left to join the army of Marshal Pilsudski in Poland.
Marc chagall, emmanuel mané-katz, savely schleifer return in russia. Many volunteered in the French army: kisling was reformed in 1915, after an injury; louis marcoussis, friend of apollinaire, would be decorated; as for mondzain, he would keep the uniform until July 1918. Some, reformed for health reasons, such as modigliani and sotin, volunteered for chores. Pascin leaves for London to escape service in the Bulgarian army. During the war years, artists who remained in bets without a pension or help joined forces. From 1915 on, marie vassilieff will hold an artistic canteen in her studio located in the impasse of the 21st Avenue du Maine, which did not defuse during the entire war. The First World War marked the entry of the Jewish painters of Montparnasse into the Parisian scene.
In December 1915, the first bongard, on the couturier paul peulet, sponsored a series of exhibitions in his shop on the rue de penthevere. The first presents paintings of modigliani, paintings of kisling, which are similar with paintings of picasso, paintings of light fernand, henri matisse and andre derain. These painters gradually dissipate themselves from the position of marginals that was theirs. The return of the front gives them a "certificate of good conduct", perspectives open up. Léopold zborowski organized on 3 December 1917 the first personal exhibition of modigliani, at the gallery b.
Weill, and for the preface of the catalogue, blaise asdrars wrote a poem. The inter-war three stages of immigration of the artists of the school of betting eugene zak leaves varsovie for betting in 1900, mela muter in 1901, jacques gotko arrived from odessa in 1905 and adolphe feder of ukraine in 1908, the same year as the German otto friundlich. Samuel granowsky arrived in 1909, as did maurice mendjizki, who came from ód. Leaving the russia, marc chagall spent first, from 1910, four years betting. Istvan farkas arrived from budapest in 1912, emmanuel mané-katz d'Ukraine in 1913...
Those who settled between 1900 and 1912 had the time to set up the network of friendships and relationships necessary for their development. Other painters succeeded them, fascinated by Montparnasse.
They soon joined them: vladimir naïditch de moscow in 1920, zygmunt landau de pologne in 1920, alexandre fascini d'ukraine in 1922. The Russian ossip lubitch arrived in 1923, the Belarusian isaac antcher in 1924, the Polish esther carp in 1925. Issachar ryback arrived from ukraine in 1926, abraham iris (known as antoine iris) arrived from bessarabia in 1926, jacob macznik from Poland in 1928.
As for the Russian prince, the painter alexis arapoff, born in St.Petersburg, he fled the Urss in 1924 with a theatre troupe. The inter-war period thus saw the arrival of other Russian artists, such as andré lanskoy, serge poliakoff, alexandre garbell, etc. And sees the emergence of new stylistic tendencies, such as abstraction, as well as the importance of color in painting.
As soon as Hitler came to power in 1933, the painters fled Nazi Germany: Lithuanian Moses Bagel, Jésékiel Kirszenbaum and Jacob Markiel arrived in Paris. In Poland, sam ringer, after having been forced to work on the construction of the Auschwitz camp, was successively deported to nine different camps and eventually came to Paris in 1947 to enter the fine arts.
In Montparnasse, for twenty years, under the coat or under the tables of the terraces of the rotunda, dome, cupola, traffickers buy and sell paintings of drain, paintings of utrillo, paintings of modigliani or picasso escaped by miracle from the cardboard of the painters. Indeed, the three main cafés of the betting school are the dome, the rotunda and the dome.
More eccentric to whores we find the restaurant of camille renault called "big boy". The dome was created in 1898 and it was around 1903 that the Jewish painters of Germanic language, walter bondy, rudolf levy (de), bela czobel, jules pascin, reszo balint made it their favourite place according to the tradition of Munich cafes.
There they find the merchants of alfred flechtheim (de), hieu bing... Other groups consist of Dutch and Scandinavian painters. The rotunda is an ancient establishment, taken over by victor libion in 1911.
This very generous man to the painters welcomes painters and sometimes housekeepers in exchange for consumption, but also michel. Larionov, nathalie gontcharova, adolphe feder. Financial difficulties forced libion to sell the rotunda in 1920. Like the painting merchants, this man contributed greatly to the emergence of this life thanks to his attitude and sensitivity.
It is said that andré salmon for years campaigned for the statue of balzac, boulevard raspail, to be replaced by that of libion. The dome was inaugurated in December 1927 by the artists managing the false dome and laffont. About 30 painters decorated the pillars and walls with paintings painted directly on the concrete: light fernand, marie vassilieff, david seifert, nathan grunsweigh, georges kars, orthon friez la second guerre mondiale a group of painters, who begin to exhibit under occupation, is gathered by the exhibition twenty young painters of French tradition, organized in 1941 by Jean Bazaine and the andré lejard publisher.
The title of the exhibition masks in reality the demonstration of a painting not in conformity with the Nazi ideology of degenerate art. "all these painters, of a very diverse age and trend, agreed on the necessary resistance of the painting. What made them accept this general and lenient title, intended to reassure the occupant it was nothing less than to allow, by surprise, a Judeo-Marxist exhibition, in all its forms, at a time when the galleries dared to show only the art of Nazi obedience. After refusing a number of galleries, the Braun gallery accepted the risk of the exhibition, which was welcomed by torrents of insults from a well-educated press", will write in 1998 jean bazaine.
Indeed, these painters are far from the traditional forms of art. However, they are not disturbed by the censorship of the vichy regime, although they have been referred to as "traditional".
"I remember the opening quite well: two German officers arrived who advanced to the middle of the gallery. They threw a blow from him, looked at each other, turned his heels. It was the time when the Germans still wanted to be nice," said Bazain again. The exhibition becomes the manifesto of a modern painting and federates several artists with a non-figurative tendency: jean le moal, alfred manessier, charles lapicque, jean bazaine, édouard gignon, léon gischia, maurice estève, charles walch, gustave singier, jean bertholle, andré beaudin and lucien lautrec.
Two years later, from February 6 to March 4, 1943, a collective exhibition, twelve painters today, is held at the gallery of france with bazain, bores, chauvin, estève, andré ferugeron, gischia, lapicque, le moal, gignon, singier, villon, lautrec, tal coat. Despite their aesthetic differences, these artists emerge from this group, who will soon be designated as members of a new school of betting. Pierre francastel, in a book written under occupation but published at the liberation in 1946 new drawing. The school of betting, indeed labeled the Romanesque style and. Cubist of these painters called "of French tradition" by taking the formula dandré warnod.
In the post-war era today, the term "school of betting" covers several meanings. The expression was diverted by some in the 1950s to define a national figurative aesthetic; it then takes a highly pejorative connotation in the vocabulary of the critique of the late 1960s flagorating the school of new york. On the other hand, Parisian galleries relay the confusion as to the use of the term.
In January 1952, during an exhibition at the babylone gallery, charles estienne took the part of gathering only artists with abstract tendencies. They were presented as guarantors of the new school of betting born between 1940 and 1950. The carpenter's gallery, in 1960, expanded its selection of artists. It was exhibited by the betting biennial in 1961. The art knowledge article published at the time of the exhibition traces its content: "Lart present is in bets, but also elsewhere: in italia, for example. This is understood by the organizers of the annual exhibition known as the school of betting (carpenter's gallery). They added to their guests twenty-seven Italian painters including peverelli who is the only one to live in Paris. Among the others, burri, dova, schneider, and fontana orazi have gained an international reputation. The item "sasza blonder andré blondel (1909-1949) hsp nu 35x25cm 40's school of betting" has been on sale since Friday, October 8, 2021. It is in the category "art, antiques\art of xxe, contemporary\paintings".
The seller is "www.Galerie-d.Art" and is located in/en betting. This item can be shipped to the following countries: america, europe, asia, australia.
Style: 1940-1960
characteristics: signed
Artist: André blondel (1909-1949)
genre: fauvism
theme: nude
period: xxeme and contemporary
dimensions: 35 x 25 cm
type: oil