PAINTING XXth CENTURY, AROUND 1910 - PEASANT WOMAN IN THE KITCHEN - SIGNED GILBERT (VICTOR GABRIEL)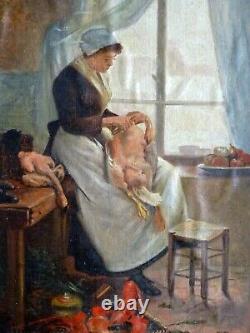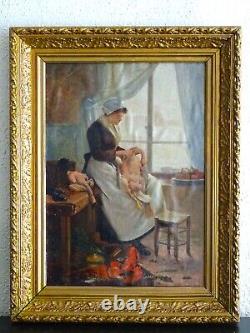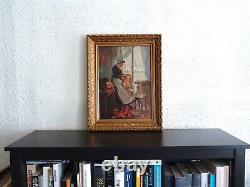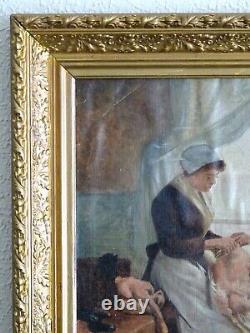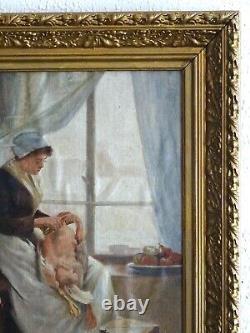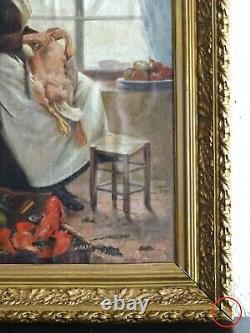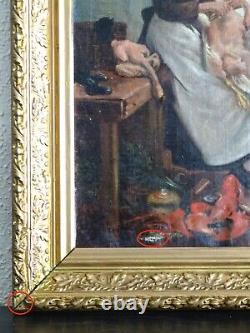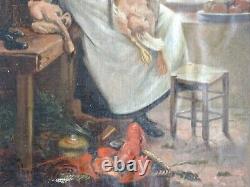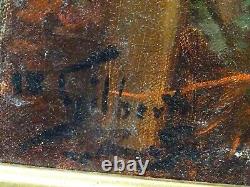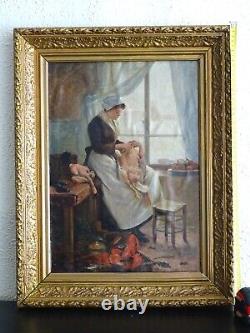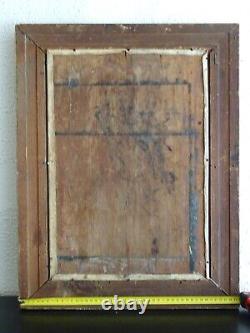 Painting (oil on canvas later mounted on a wooden panel), dating from around the 1910s and signed "Gilbert". It is a genre scene showing a peasant woman in her kitchen. She is holding a plucked goose in her hands.
She is partially leaning on a table on which another plucked goose is placed. At her feet, there is a wooden crate containing a lobster. We can also see a tray of apples on the windowsill.
Several of these elements could lead to the assumption that this woman is from Brittany. There is a signature ("Gilbert") on the lower left part of the painting. My research has not allowed me to formally identify the painter. This Parisian painter specialized in genre scenes and created scenes depicting both Parisian life and everyday life in rural areas. I invite you to find his Wikipedia page, which will allow you to learn more about him. On the same website, you can find paintings in the same style and vein as this one, with peasant women working in their kitchens.
However, of all the paintings I have consulted by Victor Gilbert, they were all signed either "V." This painting is simply signed "Gilbert." What is puzzling is that after analyzing the signature under a Wood lamp (blacklight), there is no doubt that it is not apocryphal. Furthermore, the way "Gilbert" is signed, with a "G" that can resemble an "S," is completely similar to most of the signatures I have seen. My personal research really leads me to believe that this work is indeed by the hand of Victor Gilbert, however, out of honesty, it seems really important to me to point out that I have never shown this painting to an expert and I am not able to give it this attribution.
I invite you to conduct your own research in order to form your own opinion, and a pleasant surprise may perhaps occur.. Attention to research enthusiasts & collectors!! Dimensions: - 47.5 cm / 33 cm.
59 cm / 46 cm (frame). Note: the work is perfectly readable!
However, the original canvas, which has a slight scratch, has been mounted on a wooden panel, resulting in small undulations in some areas. I would also like to point out that the gilding of the frame is not original and that there are two small flaws. I am available if you have any questions.
More photos available upon request. I'm able to understand English and to be understood. So, if you have any questions you can contact me. Feel free to visit and subscribe to my shop.