NARCISSE DIAZ DE LA PENA Oil on wood panel. Signed around 1830, 1840.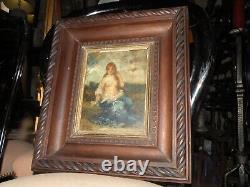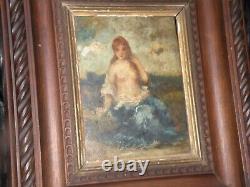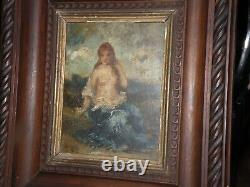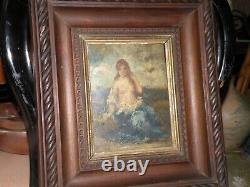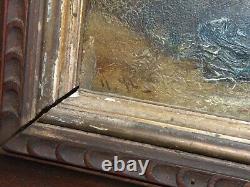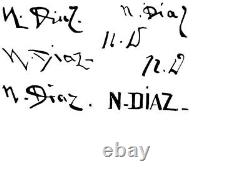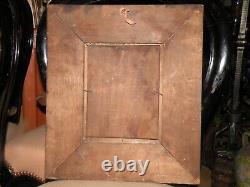 Very beautiful work by the French painter Narcisse Virgilio Díaz, also known as Narcisse Díaz de la Peña, born on August 20, 1807 in Bordeaux and died on the 18th. We can feel the influence on the Impressionist style and the arrival of the movement through this small partly nude female painting, which I classify in the painter's early period (See further in the description Pierre Miquel's comment on the painter's three periods). Frame dimensions 36.5 cm/32 cm. Oil on panel dimensions 19.5 cm/15 cm. Small painting signed with two initials.
See photos n°5 and 6 in the ad showing the painting's signature. Narcisse Díaz de la Peña became an apprentice painter at Jules Claretie's porcelain factory in 1822, where he met young artists who became his friends.
In 1830, through the Lille painter Souchon, he met Narcisse Díaz de la Peña perfects his education at. He was admitted to the Salon in 1831 with two landscape sketches.
In 1832, he presented an Adoration of the Shepherds and The old Ben Emeck. Under the influence of his friend Raffet, he tried his hand at history painting in the vein of Horace Vernet.
By presenting The Battle of Modina-Coli at the Salon in 1835. Without resources and having given up his career as a ceramic painter, Narcisse Díaz de la Peña sold his quickly produced works at very low prices.
From 1837, Díaz de la Peña joined the group of the Barbizon School and painted landscapes in which he particularly liked the sites in Fontainebleau. And like artists and writers, he was fascinated by the Orient. He also used nature as a backdrop to introduce allegorical, mythological, or realistic figures. His painting The Descent of the Bohemians was a great success at the Salon de Paris. From that date onwards, he almost no longer exhibited under the Second Empire. So many commissions to satisfy his collectors, in a colorful style, sometimes romantic, allegorical and oriental, or sometimes Barbizon, through which.
"Diaz plays a role in the formation of Impressionism. Figure of the Ganne Inn. A great talker and generous, he was surrounded by many students with whom he went to paint in the forest. And provided them with financial and moral support. In 1849, he organized a sale of sketches and studies from nature, while painters usually offer finished paintings for sale.
The selling prices are quite low, but he will repeat the experience in the following years and obtain higher prices. He paints by working the pictorial material, loaded with a knife, with marked chiaroscuro contrasts, which allows him to obtain luminous effects and in this way he will influence the Impressionists. The latter notes in his Journal the.
] of a Diaz painting at Durand-Ruel's, where everything comes from the painter's imagination, but where memories are faithful, life, grace, abundance. From 1854 onwards, he regularly stays on the Normandy coast. Where he buys a house not far from the sea, the Villa Caprice. He paints several seascapes alongside his friend Gustave Courbet.
In 1855, he takes part in the Universal Exhibition. Where he presents a retrospective of his work. Then he goes on a trip to the Orient and exhibits at the Salon in 1859. His eldest son, also a painter, dies in 1860. He regularly receives awards at the Salons, but his too great ease of work, his virtuosity and his laissez-faire are criticized, but he is still considered a.
This quality is what Vincent van Gogh. His fervent admirer appreciated the most in him. Having become a personality in the Parisian world, he is received by Princess Mathilde. Amateurs must order their paintings, on a waiting list.
Diaz begins to collect furniture and precious objects, his studio is of rare luxury. The meeting with Pierre-Auguste Renoir. He meets Narcisse Diaz de la Pena in the forest of Fontainebleau. The story is told by both Edmond Renoir. As well as by Jean Renoir. Renoir was painting in the forest of Fontainebleau when young people bothered and attacked him. From a thicket, Narcisse Diaz de la Pena with his cane saved the young painter from this bad situation. Renoir was eternally grateful to him, considering him his "patron saint". The friendship between the two men did not waver, Diaz gave advice to Renoir. And when Diaz learned of Renoir's precarious financial situation, he opened an account for him at his paint dealer, discreetly supplying him with colors. He lived with his wife Marie-Augustine Gotton-Vel at 50, rue de Rome. In 1867, he painted his ultimate masterpiece The Heights of Jean de Paris (a place in the Apremont gorges) Paris, Musée d'Orsay. Despite his many Impressionist friends, including Claude Monet.
Who met him at the Saint Siméon farm. He did not participate in the first Impressionist exhibition. In 1874, perhaps because of his illness, a "chronic bronchitis", probably tuberculosis.
Which took him two years later, although biographers claim that he died from a second viper bite in Menton in 1876. He was buried in Paris at the Montmartre cemetery. According to Pierre Miquel, Diaz de la Pena's work unfolds in three periods.
The first period goes from 1830 to 1844, characterized by works with Hispanic and Oriental subjects, with a palette poor in pure tones, with dark and contrasting tones realized with a heavy touch. The second period from 1844 to 1860 sees the appearance of brighter touches with pure tones, light blue, bright yellow and carmine. During this period, Diaz painted in Barbizon.
The third period from 1860 sees Diaz's style solidify with an amplitude of volume, a certain sumptuousness of color with contrasting tones and emphasized values, but with greater freedom of execution. Diaz's colors are known to have quickly faded due to faulty chemistry and the use of unstable and dangerous colors, according to Claude Monet.
"One cannot imagine how beautiful Diaz's paintings were when they were freshly painted, they were true gems. Obviously his technique betrayed him, today everything is blurred, they have lost their brilliant quality. This painting deserves a small. Cleaning, do not hesitate to contact me for additional information.