Maud Gerard (1915-2013) Oil On Wood / Belgian School / 1948 / Impressionism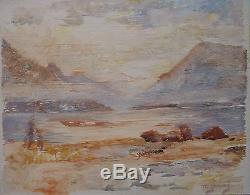 Very beautiful oil on wood. 7.5 \She studied at the workshop Henriette Bosche in 1931.
Then she joined the Royal Academy of Fine Arts in Brussels in 1931. She studied painting with anto map from 1935 to 1937.
Winner of the annual painting competition of the Academy of fine arts in Brussels in 1937. She studied with isidore Opsomer at the Institute of Antwerp painting. She has traveled extensively in Europe, Africa, new York, washington and south america.
Maud Gerard Was a Long Lived British born artist Who Was Heavily Influenced by the french impressionists, so much so That She Went to live and study in belgium Where She Was Then the notary C. Vast majorité of her life. From the studio of the artist, thesis are beautifully handled and highly collectable. In 1931 Was gerard to enlisted in the Royal Academy of Fine Arts in Brussels Where She Was to study under henritte Bosche (later being white Invited to Work At That painters studio). A trip to paris During 1936 Bought her into touch with paintings by Monet, the water lillies series being white has Particular favorite.
Often very delictaely colored, her work is a fascinating combination of impressionism, post-impressionism and cubism one occasion. After a short spell under the instruction is anto card (1935-1937), her breakthrough cam in 1937 When She won the annual painting competition of the academy of fine arts in brussels.
Later, by invitation, to study with Gerard Was Isidore Opsomer at the institute of antwerp. Her legacy Was cemented as early as 1948, When She Was Invited to hold a solo exhibition of her work at the Fine Arts in Brussels to much acclaim.
The alternative figurative or young painting. At the end of the Second World War, the 1950s in France are characterized by the expression dinterrogations existential, the anguish of humanity dune reflections and uncertainties that discovers the expanse of Nazi the horror and disillusionment of the Cold War.
This period reveals a new generation of painters matured early by the suffering and deprivation of the black years. They offer a vision of the world where the man, not the idea, is central. Half a century has passed. The time has come to pay homage to these artists, these collectors, public and private, who have had to defend the heart of a figurative alternative to labstraction conquering.
Françoise adnet paul AÏZPIRI, Jean-Pierre alaux, guy Bardone, richard Bellias, André Brasilier, Bernard Buffet, Jacques busse, jean-marie calmettes jeans Chevolleau paul collomb jeans gossip, jeans cortot, daniel dalmbert, michel gallard, rene genis, Raymond warrior, vincent Guignebert, paul Guiramand, hilaire, Jansem jeans, Jacques lagrange, Bernard Lorjou, Marzelle John, Andrew minal, marcel Mouly, michel Patrix, stone-henry, jean pollet, raoul pradier, Daniel ravel, paul rebeyrolle, claude Schurr michel Thompson, maurice greenfinch, claude weisbuch, new school of paris. The seller is \This item can be shipped to the following countries: america, europe, asia, australia.
Period: XXth contemporary <\/ li>
dimensions: 19 x 24 cm <\/ li>
style: 1940-1960 <\/ li>
artist: maud Gerard (1915-2013) <\/ li>
type: Impressionism <\/ li>
Theme: Landscape <\/ li>
Type: Oil <\/ li>
Features: signed <\/ li> <\/ Ul>