Berthomme St-andre Way In Undergrowth Very Large Oil On Canvas -1950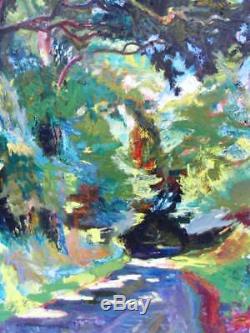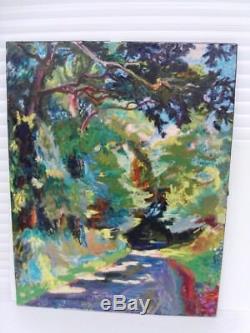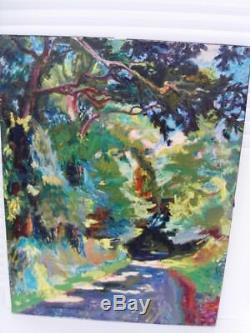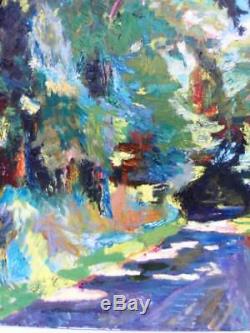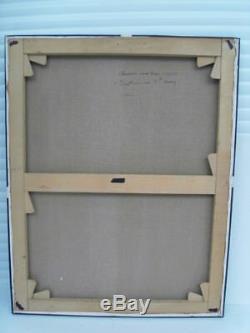 Berthomme st-andre - \Very large modern oil on canvas, original and authentic. Dimensions: 92 cm x 73 cm (30 figures) - weight without packaging: 2,180kg.
European standard framing format available in all stores. Specialized and / or specific departments of department stores. Signed lower left and cons-signed on the back by the artist. Stamp of the workshop on the back.
Dated 1950 at the back. Provenance: Private collection - good condition. Beautiful work collection; High quality. Sold without setting with personal delivery. Possible payments in installments by bank transfers without charge.
(Price of the object after receipt of the latter regulation). Ps importantly, this sale is offered \The buyer will therefore have sole charge of conduct the removal of the work possibly via a carrier and / or. Mover specialist engaged by him from its packaging and final delivery with; according to his wish. Insurance \Right out of the goods from storage by one, we will be relieved of all responsibility. The weight and size of the object will be shown piecemeal on request.
As a major art market professionals for decades, buying under our logo. That gives you a quality label for purchasing and quune guarantee of seriousness, reliability and success in your investment. Also, this announcement of our label titled \Free Credit and conditions: possibility to pay in installments by checks prior agreement.
Also, feel free to visit our store and add us to your favorites! Painter, printmaker, ceramicist and renowned French illustrator. Pupil of Cormon in lecole of Fine Arts of Paris and the workshop stone laurens, he exhibited at the French artists from 1924 to 1929, winning the silver medal. He then enjoys a government scholarship to lalgérie.
He participated in many exhibitions like dautomne, independent, national or tile and the living room of drawing and painting in water and was appointed president. Lounges lounges, it gradually takes its place among the best contemporary artists of the XXth century. He strongly sintéresse decorative arts. It sinitie to murals and illustrated numerous books.
It is very famous and sought after for his erotic drawings of high quality. In 1954, he was promoted to Knight of the Legion of honor for its work and the object of exhibitions particular the united states and in England. Jusquen 1977 this is an unbroken succession of exhibitions in the world especially in Japan. It receives that year; before his death. The grand prize of Painters witnesses of their time.
He died on 1 October of that same year victim dune heart attack on the eve of its annual exhibition at the gallery in Paris dimpoulos. Berthomme part since inception of the artistic movement of poetic reality and paris of lecole painters. As for women, flowers, landscapes, colors are alive; very vibrant. They reveal an intense light, and whatever the reason, they rely on a strong design that hints at the beautiful reflections of the nature and subject.
My joy, this is the painting of the things that I love with all the intensity that implies. My brush is made \We need the brush, too, is tender, love. Léclat color is subject to the feeling must experience the audience. My painting: it is a poem. Artist \So we can expect in the years to close an important start of his side! welcome to the witnesses painters of their time (PTT). For decades, painters witnesses of their time did you discover, expose, sell; by auction, artists of the early XXth century; their talent, marked their time and can now unsubscribe in the history of modern painting of the last century and lecole of paris. See our website (in real price \19 boulevard soult, 75012 Paris. Dominique for information or potential RV 06 September 20 26 66.
We hope you fulfill your pleasures acquisitions damateur dart as an individual, professional or experienced collector. Bill through the sales site \ Authenticity of the proposed works warranty.
Sending secure as possible around the world on express request of the buyer with comprehensive insurance \We inform you that new paintings, drawings, modern prints and old will soon be offered for sale on our website. Many of the artists that we offer are artists \So we can expect in the years to close an important starting their side! Remember to add us to your \standard form contract (those prevalent Sale site). All works are carefully packaged and shipped by us within 7 working days of the receipt of your payment and / or receipt of your check.
Fees VAT, plus Shipping, in charge of the buyer, are modeled on the current rates for mail and / or carrier selected depending on the size and weight of the package which will include a fixed price (calculated as accurately) for costs packing and handling (bubble wrap, pouch, box, tape etc. On specific request of the buyer and at his expense, an \Thus, your payments will seffectuer all expenses included. You is advisable to ask the total to pay us before deffectuer regulation. For any returns, refunds seffectuera by check or transfer to your order within ten business days after receipt of the returned package in r / ar this is to say in the same manner as VAT, plus Shipping our original shipment.
We are not responsible for linexécution the contract due to a case of force majeure as strike, internet network failure, natural disaster, attack, flood, fire, etc. In case of conflict and without any highly recommended amicable solution Instance court in Paris will have sole jurisdiction. In any case, these general conditions prevail and replace any that may exist elsewhere. The item \The seller is \This item can be shipped to the following countries: European Union.
Type: Oil <\/ li>
Features: signed <\/ li>
type: poetic reality <\/ li>
Theme: forest landscape <\/ li>
style: modern 1950 <\/ li> <\/ Ul>