Attributed To Elisha Maclet (1881-1962) Paris Oil On Wood Area Ca 1940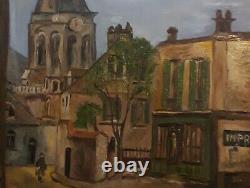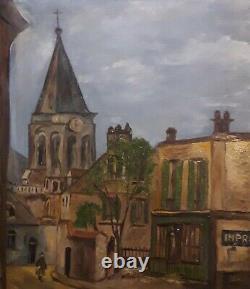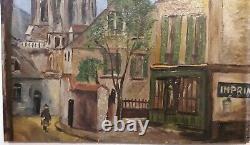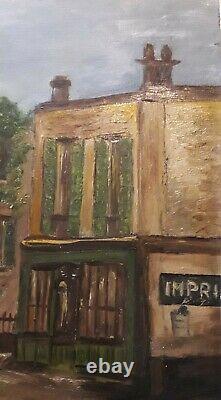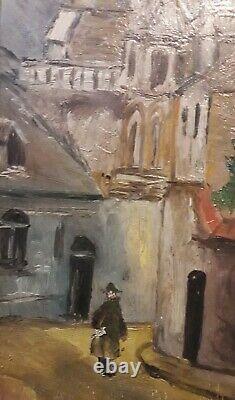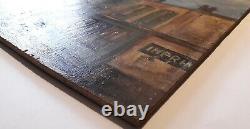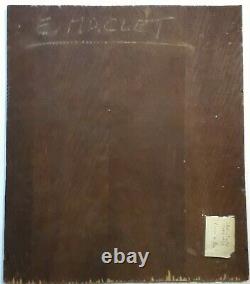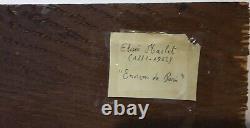 Hello, I sell some of my collection. Attributed to elisée Maclet (1881 - 1962).
Son of a dune laundress and gardener sexton sacristan Maclet ten years old when child becomes chur, assistant gardener. Already envy draw the pincers, so much so that the Lihons priest labbé Delval who, on the occasion, like to hold the brush, gave him his first box of colors.
It is said that on the edges of the sum which he Fri Ait seek inspiration Maclet have met Puvis, the master would have found his gifts and encouraged the child to paint. In 1906, at age 25, his mother just died, he left his father's house and arrived on the mound, the same year as modiglian i. Like almost all the painters of the times life is difficult, it accepts all the jobs that arise, while painting in the oil and laquarelle, streets and corners of the mound.
He lives ornate hotel, Chartres street, and dine at the Beauvais nearby tavern. He works at the mill-red with chérettes and became a gardener at Moulin de la Galette. Maclet between then as a dishwasher and cook to restaurant cars through its ballu countrywoman. Dash boignet, buddy dutrillo, lemmène the Lapin Agile, there Maclet sells his works regulars, Dorgelès, Mac Orlan, Auriol.
It is also said that Degas would have given him some advice in his studio Boulevard de Clichy. The crafty Maclet sy is heard in due success, to refine a biography which, although picturesque, might have seemed dull to her fans. The painter begins to sell to local dealers, to delon former salesman knitwear at the corner of the street and custine labat street and even Adam Boulevard de Clichy; this, they said, buying more expensive painted cardboard Maclet as those utrillo.
He attended Max Jacob and goes up to share his street coat gabrielle when the newly converted practice night devotions. It was he who wrote Maclet is an artist who samuse to be taken for a small farmer from the north. Elisha sinstalle hotel in Pear with young Georgina, who will leave in the spring. He spent the war without history, as a nurse. Francis carco recovers Maclet in Montmartre bouquet restaurant located at the corner of Joseph and abbesses of master and sends it in a house that he rented in Dieppe; we are in 1918, discovered the painter and painted the sea and Normandy but returned to the mound in 1919, we begin to talk about him.
Mathot at the top of the Rue des Martyrs, Maclet knudsen meeting, an antiques dealer in Avenue George V, who presents it to the Baron von frey; one load decorate his house in the villa Saïd, made him sign a five-year contract, and sends it in the south; in July 1926, Maclet arrives in Avignon, then the azure coast, then in Corsica, more knudsen is responsible for its promotion. The 1929 crash breaks the Maclet commercial success, his contract is not renewed. Again, he knows the misery and lives in a small workshop 3a, fine arts Street, fifth floor without a lift of course. In 1945, the gallery Norvins 20 Norvins street, presents his recent works.
It turned drinking again, undergoes a crisis of delirium tremens, was interned; to its release, he resumed his brushes, returns to the mound, his last home a windowless room, marcadet street. He died August 23, 1962 in a common room of the hospital Lariboisière, and is buried in his native land, Lihons. Maclet sest married to paris (iie) April 28, 1949; marriage dissolved January 31, 1939, this act is registered at the town hall of the eighteenth June 24 of that year. Second marriage to paris (x °) on 9 May 1961.
Procedure for divorce 17 April 1962, mentioned in the eleventh town hall on July 17, 1962. It is interesting that his biographers Cottel jeans and marcel Guicheteau, which were also his sycophants, never mention relations Maclet and Lucien Génin. Yet since their installation in the hotel Pear, circa 1920, up town the address 3a Street Gallery, and from Maclet in 1933, they did not leave, and render services, especially from Maclet more launched as Genin. In September 1982 Cottel jeans and marcel Guicheteau write a descriptive catalog essay, under the direction of Jean Malgras in the abc collection preceded dune me preface blache then auctioneer at Versailles.
This is the only relatively comprehensive work exists, other books and catalogs nayant not claim to lexhaustivité. Text from the dictionary of painters in Montmartre see description. Beautiful and unusual oil on wood circa 1940 award by a label and inscription on the back of the painting. It seems old, found no signature.
The style is very very close to the works of Maclet. Dimensions: 45 cm x 39 cm approx.
For delivery abroad, please contact me before bidding, thank you. The item \enamels \The seller is \This article can be shipped worldwide.
characteristics: restore <\/ li>
artistic trend: French School <\/ li>
type: Impressionism <\/ li>
Theme: Landscape <\/ li>
Type: Oil <\/ li> <\/ Ul>