Philippe Cara Costea (1925-2006) Hsp Young Painting Couple Nl Ecole De Paris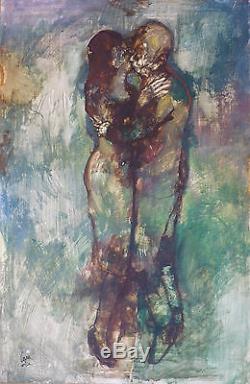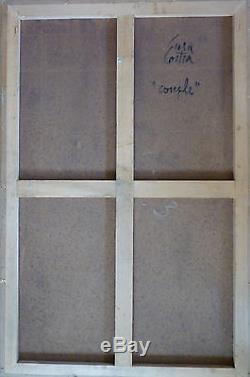 Oil on isorel oil on board. Very beautiful oil on isorel. And titled on the back. Dimensions: 105.5 x 65.5 cm.
Countrehandsigned and titled on back. Sizes: 21.65 "x 7.85" in. Click on the thumbnails / click on the pictures. Benezit, drouot, akoun, artprice, auction room. Philippe cara costea during a conference in Méréville on September 17, 2006.
Biography: philippe cara costea, born September 16, 1925 in méréville (ex seine-et-oise), and died December 31, 20061, is a painter, lithographer and French sculptor. Formed by a Romanian father and a French mother, philippe cara costea attended secondary school at stanislas secondary school in paris before entering the school of fine arts in paris, then at the academy of la grande chaumière , in the workshop of emile othon friesz. In 1947, he left for Tahiti in the footsteps of Paul Gauguin, in the company of his friend with whom he attended the College Stanislas, the young philippe painter who will become the founder of the school of etamps. He obtained a state scholarship in 1955.
In addition to numerous exhibitions in France, he is also present abroad: Lausanne, Tunis, New York, Parceum, San Francisco, Cologne, Brussels. He is a member of all the major national salons: salon d'automne, salon des artistes français, salon of the national society of the fine arts, salon d'angers, drawing and painting salon with water, salon de la young painting, living room comparisons, etc. Distinctions he won the prize of the table club, the gold medal at the salon des artistes français (1978, 1988), the prize of the academy of fine arts (1988), the grand prix beaudry (taylor foundation, 1996) , and the gold medal of the salon de montmorency (1983). His work as a painter and an extremely productive sculptor, his greenery, his marines, his bands, where he has often represented himself, his orchestras inspired by a violinist friend in a great French orchestra, his cathedrals, mainly with holy cross of orleans, her feminine nudes in painting and serigraphy, lithography and pastel.
In the field of silk screen printing, cara-costea initiates and organizes, within the association of young painting artists, the publication under the title of serigraphies original of a series of five numbers (limited editions and numbered copies) which appear between 1949 and 1953, each issue being created on a theme, ie successively: io, the cow-horned virgin, mothers, job, self-portraits, and death. In cara-costea, leader of this bibliophilic publication5, join paul aïzpiri, nicolas carrega, roger chastel, antoni clavé, paul collomb, gabriel dauchot, edouard goerg, jean jansem, philippe lejeune, bernard lorjou, andré minaux, orlando pelayo , paul rebeyrolle, gaetan de rosnay, claude rderer, claude schurr, jeans sovereign and jacques yankel6. As a lithographer, cara-costea illustrates the work of poems beautiful flesh of émile verhaeren. Her work in sculpture includes many female nudes, wood and plaster, especially a woman giving birth alone, and especially a child's head in bronze.
Finally, he made four monumental works for his city of méréville: for the college hubert robert de méréville, a bas-relief of 1976 represents a group of children playing, hollow on the wall, facing the cemetery where he rests. For the church of Saint-Pierre-ès-Liens de Méréville, he created in 1970 the large cross of six meters carved hollow in a trunk of iroko of more than one ton. In this same church, fourteen semicircular windows represent the life of Christ (inspired by the mysteries of the rosary).
The first two were completed in 1942 under occupation and without the aid of a workshop. The rest of the work (1998) followed the installation of the Great Cross. Made after the fire of 1959 that required the restoration of the Romanesque building.
The fourteen stations of the Way of the Cross in "negative" that is to say hollow on a steel plate (inspired by the passion of Good Friday), were completed after his death by the friends of the association he founded in 1990. These works for méréville illustrate the theory of the artist: create a work in negative-positive that generates the image instead of reproducing it, at a given moment, as the photographer stops the time the time of a click. Personal exhibitions gallery drouant-david, 19509. Galerie Paul Vallotton, Lausanne, 1952.
Gallery Monique de Groote, Paris, 1953. Gallery Jean-Claude Bellier, Paris, June- July 1961, June-July 1963, 1966, 1968, 1969, 1974. Galerie isy brachot, brussels, 1969. Festival d'etampes, hotel anne-de-pisseleu, may-june 1970. Galerie Traiz, Versailles, March 1977. Art Gallery of the Place Beauvau, Paris, February-March 1983, 1987, March 1991, January-February 1995. Municipal Museum of stamps, December 1984 - February 1985. Gallery Workshop 33, Bordeaux, 1985. Galerie l'art former, orleans, June 1989.
Gallery presences, brussels, november 1989. Gallery of the old mail, may-june 1991.
Gallery florence basset, flassans-on-issole, september-october 1995. Collective exhibitions salon of the young painting, 1950, 1955. Fall Salon, 1955, 1963, 1965, 1967, 1970, 1971, 1972, 1973, 1975, 1977, 1978, 1979, 1980, 1981, 1982, 1983, 1984, 1985, 1986, 1987, 1988 , 1990, 199110.
Eighteen painters of the sixth salon of the young painting (1955), galerie marlborough fine art ltd, old bond street, london, january-february 1956. Philippe cara costea, hélène azenor, selection gallery, tunis, january 1957. Philippe cara costea, jean joyet, andré la vernède, norval gallery, Paris, 1959. French modern figurative art, New york coliseum, 1959. Five maste rs of the school of paris, with philippe cara costea, michel gallard, pierre garcia-fons, robert savary, international galleries, chicago, 1959.
Aspects of the school of paris: duilio barnabas, philippe cara-costea, antoni clavé, roger lersy, national galleries, chicago, september-october 1960. Souvenir de corot - andré dunoyer de segonzac, richard bellias, philippe cara costea, andré dignimont, jacques van den bussche, children's house, viroflay, 1961. Art and medicine seen by twenty-four painters - jean aujame, yves brayer, louis berthomme saint-andré, philippe cara costa, jean carzou, roger chapelain-midy, michel ciry, stone shelf, jean cocteau, paul collomb, edouard goerg, françois heaulmé, jean jansem, georges rohner, waroquier henry, gabriel zendel ... Galerie dulac, paris, from gericault to our time, san francisco, 1966. Travel - National Awards and State Fellows, Museum of Modern Art the city of paris, May 1966. Modern paintings s: bernard buffet, philippe cara costea, jean gossamer, paul guiramand, jean jansem, merchant andré, andré minaux, georges rohner, claude weisbuch, historic hotel françois ier, orleans, december 1976. Galerie marcel billy, la baule, 1989, 1990. Cara costea paints music, music school of etampes, November 1993.
Figurative art of the 50s, art gallery of the place beauvau, 1994. Exhibition of artists of low-normandy, city hall of caen (philippe cara costea guest of honor), October 1994.
Group exhibition: philippe cara costea, simone dat, raymond warrior, françois heaulmé, michel thompson, claude venard, florence basset gallery, flassans-sur-issole, september-november 1996. Florilège taylor - painting, sculpture, engraving, town hall of the ninth district of paris, April-May 1998. Spring exhibition of the artistic society of dourdan, cultural center rené-cassin, dourdan, 2004, 200511.
The rebellious of modern art - Paris, the 50s, museum e mendjisky-paris schools, paris, october-december 2016. Philippe caracostea tribute - ten years already! Cultural Center of Méréville (his native village), Place de la Halle, 91660 Méréville, September - December 2016 Sat. Biografia: Philippe Cara Costa Nacido el 16 de Septiembre de 1925 en méréville (antigua seine et oise), muerto el 31 diciembre de 2006 in the clínica de saclas, enterrado en méréville is a pintor y escultor de origen francés.
Rumano por parte of padre, francés por su madre, el considered beauceron (méréville) of nacimiento. Es el padre del autor de cómics carabal autor of "les gosses" of ed. Formación realizó sus estudios of secundaria in the college stanislas, para entrar despedados in the escuela de bellas artes de parís, the "academy of the big thatched cottage" (in the taller of emile othon friesz). Viajó con 23 años (1947) in tahití siguiendo the pasos de gauguin, in compañía del amigo con el que frecuentaría el "college stanislas" of parís, el pintor philippe lejeune, that would be the fundador of the "school of stamps". Obtuvo una beca nacional in 1955. Fue asociado de todos los salones nacionales: "autumn\, "Comparisons\Premio del "club of the painting\Numerosos museos en francia y en el extranjero conservan sus obras, especialmente the museum of arte moderno de paris, the museum of the art institute of chicago and the national bibliotheque of francia. Por otro lado realizes esculturas of numerosos desnudos femeninos, in madera y moldeado, in particular the one of a mujer recostada sola. Y también a busto in bronce of a niño con una expresión angelical sobrecogedora. Finalmente, realizó cuatro obras monumental for the ciudad de méréville. Para the institute hubert robert, created a bajo relieve (1976) of a grupo of niños jugando, grabado in huecograbado sobre the wall of the recinto (enfrente del cementerio donde está enterrado). Para the iglesia of san pedro ad vincula of méréville, esculpió in huecograbado the big cruz of seis metros (1970) dentro of a trunk of iroko de más de una tonelada.
The semi-circular vitrinas (14) represent the lava of cristo (inspired by the misterios del rosario). The primeras fueron realizadas to the edad of 17 años bajo the ocupación y sin the ayuda of a taller.
The restaurant of the obra (1998) arose from the instalación of the gran cruz, priority of the fire of 1959, origen of the restoration of edifying Roman consagrado to San pedro ad vincula. El viacrucis (14 estaciones) recuperado sobre pesado metal, based on the gran cruz in "relieve hundido" (inspirada esta vez in pasión del viernes santo), esta lista para ser recortada después de su fallecimiento. Iniciada in 1998, el artista, después of the jornadas of the patrimonio of 2006, había comunicado su deseo de verlo terminado "se haga lo que se haga". Sus amigos respondieron, y aunque el autor no tuvo tiempo de verlo colocado, is encuentra hoy día en su lugar. Las obras para méréville revisten una importancia particular, primero por las dimensiones, and después por la ilustración de la teoría del artista: obra en hundido-relieve que genera la imagen en lugar de reproducirla, in a momento dado, como fotografía para el tiempo ... El tiempo of a chasquido. El aspiraba was the artista of the twenty-first century. Este sitio está todavía en línea will be there lo sucesivo administrado por la oficina de turismo local (aquí debajo). Paintings and sculptures "red book" 1983, libro unido con cobertura de funda roja con baño de oro al hierro, formato cuadrado 21 x 21 cm 160 pp.
Graphic arts of Aquitaine 33500. The memory of tomorrow "green book" 1995, libido unido mediante funda verde con baño de oro al hierro.
Horizontal formato 30 x 22 cm 120 páginas. Red catalog 1991, folleto con cubierta de película roja, vertical formato 21 x 29,7 cm 10 páginas, ed. Catalog blue 1998, the vitrinas of san pedro ad vincula of méréville, folleto con cobertura of película azul, formato cuadrado 21 x 21 cm 6 páginas. 1950s, the figurative alternative or the young painting: at the end of the second world war, the 1950s in France are characterized by the expression of existential interrogations, reflections of langoisse and the uncertainties of a humanity which discovers the extent of the Nazi horror, then the disillusions of the cold War. This period reveals a new generation of painters matured early by the sufferings and privations of the dark years.
They propose a vision of the world where the man, and not the idea, occupies a central place. Half a century has passed. The time has come to pay tribute to these artists, to these collectors, public and private, who have had to defend a figurative alternative to conquering abstraction. Françoise adnet, paul aïzpiri, jean-pierre alaux, guy bardone, richard bellias, andré brasilier, bernard buffet, jacques busse, jean-marie calmettes, jean chevolleau, paul collomb, jeans commère, jeans cortot, daniel dalmbert, michel de gallard, rené genis, raymond warrior, vincent guignebert, paul guiramand, camille hilaire, jean jansem, jacques lagrange, lorjou bernard, jean marzelle, andré minaux, marcel mouly, michel patrix, pierre-henry, jean pollet, raoul pradier, daniel ravel, paul rebeyrolle, claude schurr, michel thompson, maurice verdier, claude weisbuch.
The item "philippe cara costea (1925-2006) hsp the young couple painting nl school of paris" is on sale since Saturday, December 3, 2016. It is in the category "art, antiquities \ art of the twentieth, contemporary \ paintings" The seller is "paris * sur * lart" and is located in / in paris.
This item can be shipped to the following countries: America, Europe, Asia, Australia.
type: oil
period: xxth and contemporary
gender: expressionism
theme: character
characteristics: signed
style: 1940-1960