Oil On Wood Double Sided (ii) 1950 Art Brut Pierre Vuitton (1880-1962)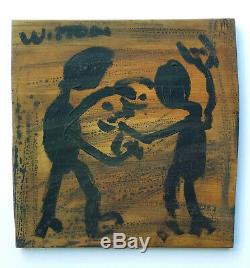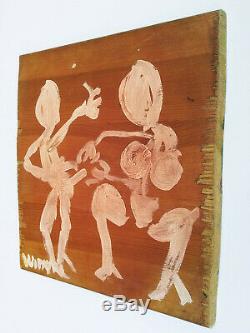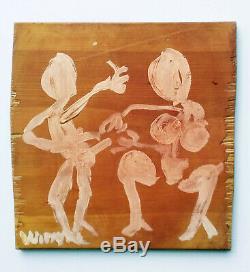 Dimensions: approximately 31 x 32 x 1.5 cm provenance: art gallery, zürich. Descended from a wealthy family of merchants, Pierre Vuitton was badly wounded during the First World War, physically and mentally, to such an extent that he could never again find a so-called normal life. After stays in sanatoria and psychiatric hospitals, he moved to Paris in 1920 to spend most of his time there. Morphomaniac and alcoholic, despite occasional work and the rare sales of his paintings, he lived in great poverty.
His first works were made during the war years. Then he continued what he had to call pictorial extreme sessions (bad-exzesse), during which he spent several days of painting to paint without eating or sleeping.
Even if he had the opportunity to attend the bohemian scene in Paris and meet artists such as jean cocteau, pablo picasso, giorgio de chirico, rudolf zehnder, andreas walser and francis picabia, his mental state did not allow him to deepen his relationship. Since he spent most of his other life in asylums or nursing homes, in France and Switzerland. From a stylistic point of view, many works of Pierre Vuitton take us back to the images of Louis Soutter, a painter also subject to many internal conflicts. Typical of expressive stone vuitton painting is the use of newspaper pages, magazines or books and salvaged materials as a medium for his work.
He could also make his own paint based on oils and pigments. Pierre Vuitton is a true representative of the art brut or marginal art as defined by jean dubuffet. His works are represented in the collection of art brut in Lausanne (Switzerland) and in many galleries and private collections in Europe. Pierre Vuitton (1880 Verdun, 1962 Paris) öl and pigmenten, beidseitig auf holz gemalt, signiert. 31 x 32 x 1,5 cm came from: art gallery, zürich.
Pierre vuitton stammt aus einer wohlhabenden familie von kaufleuten. Weltkrieg körperlich wie seelisch schwer verwundet, fand er nie mehr in das geregelte leben zurück. Nach mehreren aufenthalten in sanatorien und nervenheilanstalten zog er um 1920 nach paris, wo er in der folge mehrheitlich lebte.
Wohl morphin- und alkoholabhängig, lebte er als gelegenheitsarbeiter und vom seltenen verkauf seiner bilder in sehr ärmlichen verhältnissen. In the meantime, there is no need for a better understanding of the "evil-exzesse\Er machte die bekanntschaften mit diversen künstler und der pariser boheme-szene, so beispielsweise mit jean cocteau, pablo picasso, giorgio de chirico, rudolf zehnder, andreas walser und francis picabia. Sein sich zunehmend verschlechternder geisteszustand binds keine verbindlichen beziehungen zu, so dass er den größten teil seines weiteren lebens in heilanstalten oder in heimen verbrachte, teilweise auch in der schweiz. Viele werke von vuitton erin stilistisch stark stark von bilder von zurissenheit gequält war. Typisch für vuittons expressive malerei ist die verwendung von zeitungspapier oder buchseiten als malgrundlage. Vuitton ist ein klassischer vertreter der art-brut oder außenseiterkunst wie sie von jean dubuffet defines wurde (wikipedia). After being severely wounded, both physically and psychologically, in ww1, his previous life as the child of wealthy merchants.
After many stays in sanitariums and mental hospitals, he moved to Paris in 1920. He lived as a casual laborer in poverty.
His first works were probably during the war years, later he developed "time-excesses" in which he reportedly spent several days painting without eating or sleeping. He made the acquaintance of several artists in the Parisian bohemian scene, including dubuffet, cocteau, picasso, de chirico, and picabia. Increasingly, however, its deteriorating mental condition, any other relationship, so much more.
Any works by the artist are stylistically likeminded to the images of louis soutter, who was also tormented by an inner turmoil. Typical of vuitton 's expressive painting is the use of the newspaper. Vuitton is a classic representative of the raw art or outsider art as defined by jean dubuffet. The item "oil on double sided wood (ii) 1950 art brut pierre vuitton (1880-1962)" is on sale since Monday, June 10, 2019. It is in the category "art, antiquities \ art of the twentieth, contemporary \ paintings ". The seller is "maleofisso" and is located in / in doves. This item can be shipped to the following countries: America, Asia, European Union, Switzerland.